1/10Th of a Troy Ounce 24K Gold Plated Pure .999 Solid Silver Columbian Gold Cannabis Coins are minted in pure .999 fine silver in the

U.S.A
And are produced in Highest of Industry Standards in a process where a perfectly milled sheet of solid .999 fine silver is cut with a die then the 1/10th troy ounce round blanks are micro bead polished and struck on both sides with another die. These top shelf pieces are Brilliantly Crafted with in depth detail and have almost perfect mirror like finish you wont find a better piece to put on top of your collection.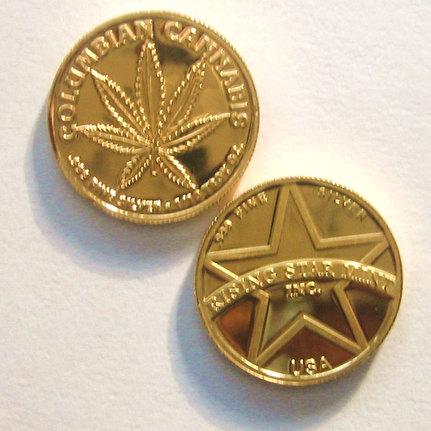 We Now Carry The Acrylic Airtight Capsules For the 1/10th Troy Ounce Cannabis Coins in two different styles.

Because We Manufacture and deal directly with other Manufactures we are able to sell only New Uncirculated Hard to find fine gold, silver products and accessories.

No Waiting 3 to 4 weeks for your order here we stock everything listed here and we never DROP SHIP, Your purchases are shipped the very next business day after your payment has cleared.

Most orders arrive within 5 days of purchase.

We Ship Anywhere U.S.P.S priority mail is Accepted.

We accept Paypal , Cashiers Checks & money orders Mailed VIA U.S.P.S

Were not happy unless you are.
So If you like what you see please tell a friend if you don't see what your looking for be sure to check back with us regularly we have new items arriving weekly.


Rising Star Mint is a ® registered trademark of Rising Star Mint Inc. and is Employee Owned and Operated In The U.S.A
Copyright © 2010-2014 Rising Star Mint Inc. all rights reserved.
all prices are subject to change without notice due to the constant change in the market.
Items must be returned within 7 days .
Refund will be given as Money back.
Refund policy details:
returns are accepted if products remain uncirculated and untouched by human hands,Money Back refund less shipping cost. Full refunds will be given as Merchandise credit were not happy unless you are.
Destination: United States

USPS
First-Class Mail®
$2.99
$0.00

Destination: Worldwide

USPS
Priority Mail Small Flat Rate Box Intl®
$23.95
$0.00
Type
Instructions to Buyer
Money Order
Domestic (U.S) Money order or Cashiers Check payments Free of Shipping Charges. International Money Orders or Cashiers Checks payments $15.99 U.S.D funds Flat Rate Shipping Charge. See Shipping Details Page for Details.
Paypal
(credit cards accepted through paypal)
$0.00(Domestic)
$0.00(International)